Essential Fall Layering Tips For Men

PHOTO CREDIT: @tobilikee
Layering is the common practice that you would do almost every day during this most anticipated and style friendly season of the year – fall. Layering creates interesting and stylish combinations for your appearance. It also allows you to transform certain looks and styles based on the weather. It has then become the most essential skill to be learned by every man, and therefore we've made an article to teach you how to nail the layering look on this fall.
How to Layer for Fall – Men's Fashion Guide
Summer is over, and the day of wearing a t-shirt with shorts is no longer available anymore. You should start to think about what kind of fabrics, jackets, textures, or colors to use for combining all of your outfits. We believe this often could be a tricky task for certain people.
If you think layering is just as simple as putting a sweater over a shirt or adding a jacket over a t-shirt, then you are just half correct. The art of layering involves more than that. You have to be tactical when you pair the outfits and be sure all of the paired items should have little or more connection between them. The most common mistakes of layering are wearing an unmatched color combination, wrong boots were chosen and bought the wrong sizing.
Layering in Fall
While it may be tricky when choosing the right clothes to pair, all you have to keep in mind is when you remove a certain piece of cloth from your body, will other layers still equally look as great? If the answer is 'Yes', then you are on the right track. There are many stylish fall layering options like a sweater and a blazer combo that will bring up the smarter look in the layering and it is a good option if you're heading to somewhere which is slightly formal.
If you want to have the latest outfit inspirations from us, do remember to follow us on these social media channels – Pinterest, Tumblr, and Twitter.
Base Layer Clothing for Fall
Let's start with the base layer. For the first layer of an outfit, we always go for the lightweight item to place under our garment. The best option will be the casual short-sleeved or long-sleeved t-shirt. Choose the cotton material so that it won't trap the heat and making you feel too hot. For the t-shirt, a plain color tee will do perfectly as people can't even see the logo on your t-shirt after you wear another layer on top of it.
For more formal attire, pick a shirt or Oxford shirt that is made of a cotton blend to keep the material breathable. Keep in mind that the material is an essential consideration point with the base layer. If the material traps heat, you will pretty much end up getting a sweaty body.
Middle Layer Clothing for Fall
Ok, now you've sorted the base layer, it's time for us to choose the second piece of clothing as the middle layer. The second layer is considered the most important part. Many people may stand in front of their wardrobe for hours without knowing what to wear for the middle layer.
For the second layer, we recommend choosing a bold printed shirt like an overshirt or denim shirt over a white t-shirt. This is the look you can wear all year round even the weather is not chilly. There are other good options like a cardigan over shirt, sweater over shirt, sport jacket over t-shirt, and windbreaker over singlet for different styles and looks.
Final (Top) Layer Clothing for Fall / Autumn
So you've learned the basic rules of layering outfits, now it's time to decide whether a third and final layer is required. The best part of layering is you can choose to wear or not wear the third layer and it should give you the outfit's flexibility even though you remove the jacket based on the temperature.
For selecting the final layer, we recommend the peacoat and parka jacket for a more casual look. For more formal attire, pick the trench coat over a suit, it will give you a stylish look while still keep you warm during this fall and winter. Other top layer clothing types include: shearling coat, denim jacket, leather jacket, and bomber jacket.
Layered Fall Outfit Photo Gallery
Now, slide left to see more men's layering outfit ideas for this fall. We hope you'll get inspired by the collection we've picked for you.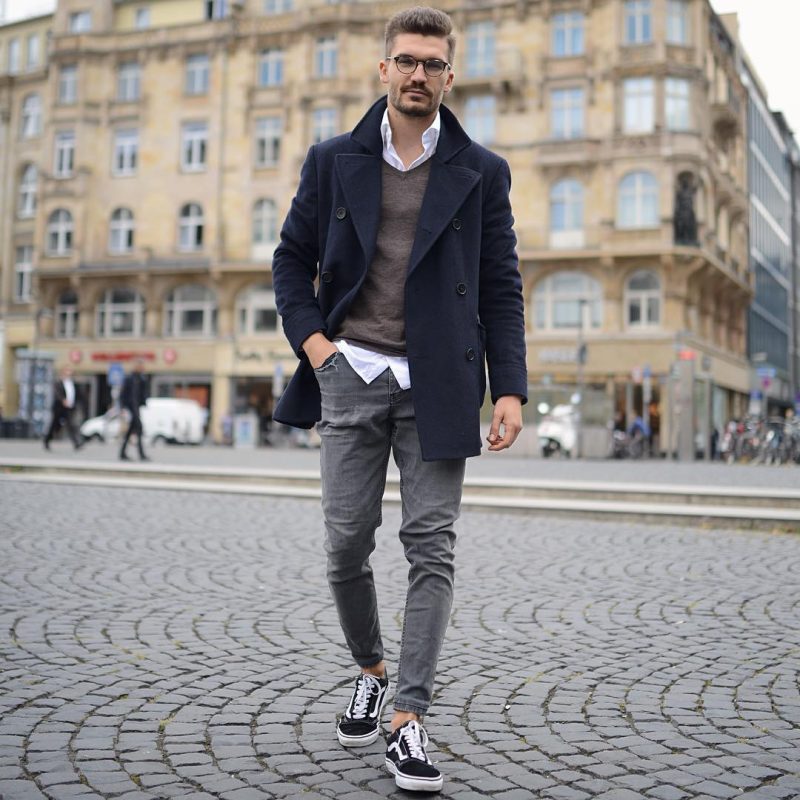 If you like this article, help us to spread the word by sharing this image to your Pinterest or click the Social Media icons on the above to start sharing.