30 Stylish Ways to Wear The Parka Jacket (with Images)
Parka jacket gives a lot of flexibility when it comes to matching and pairing outfit. Learn how to style a parka jacket with ease from the 30 images we've selected for you.
There is a reason why people called the white shirt the 'humble white shirt'. The same reason applies to the parka jacket. When it starts to feel a little bit chilly this season, there are various types of men's coats out there to choose for, but only the humble parka jacket is practical, fashionable, and steeped in history and legend. If you are not sure whether to buy a parka for this coming fall and winter, this quick guide will show you how to choose and style a parka coat with ease.
Before we start, do you have any idea where the parka jacket was originally from? It is not created on the runway during fashion weeks or designed by famous outfit companies like H&M or ASOS. The existence time for a parka is far earlier than you can ever imagine.
[ez-toc heading_levels="2″]
What is a Parka Jacket? History and Legend
The parka was originally seen worn by the Inuit people in the Canadian Arctic. It is believed that they created parka, instead of the Mods in the 1960s.
Parka was first designed to keep the Inuit people warm and dry when they were hunting and kayaking during the frigid winter months. The coat was made from the skin and fur of the animals that they've hunted. Fast forward to today, the parka jacket has become one of the most fashionable items to be worn in the fall and winter season.
Read also: 30 Stylish Ways to Wear The Parka Jacket (with Images)
How to Wear a Parka Jacket?
Parka jacket gives a lot of flexibility when it comes to matching and pairing outfit. This is because parkas don't have too many strict rules to follow, as the overall structure of the coat is less sophisticated than most outerwear like blazer or suit.
But there are still some buying guidelines you can follow before making the purchase. After all, this could be a purchase that would stay with you for many years to come. Even though a parka is a long coat, the ideal length of a parka shouldn't fall below your knees, as it will put too much emphasis on the top of your body and make it look too heavy. In the meantime, it shouldn't be too short as well, keep it cropped after the hip.
Don't worry too much about the extra room parkas provide after it's zipped up, as it is purposely designed to allow the wearer to layer up underneath it without looking overly bulky. Also, keep in mind that the length of the arms should fall on or just above or below the wrist.
Read also: 38 Ways To Wear A Denim Jacket In Fall
What to Wear with a Parka? Parka Outfits Gallery
We know using words to describe what to wear with a parka is abstract and difficult for you to imagine. That's why we have curated more than 30 pictures of how to style a parka jacket with ease. We understand some people might not be a fan of animal fur (even it is faux fur), that's why we've found 10 parka coat outfit ideas without the fur for you.
Read also: 35 Ways to Wear a Bomber Jacket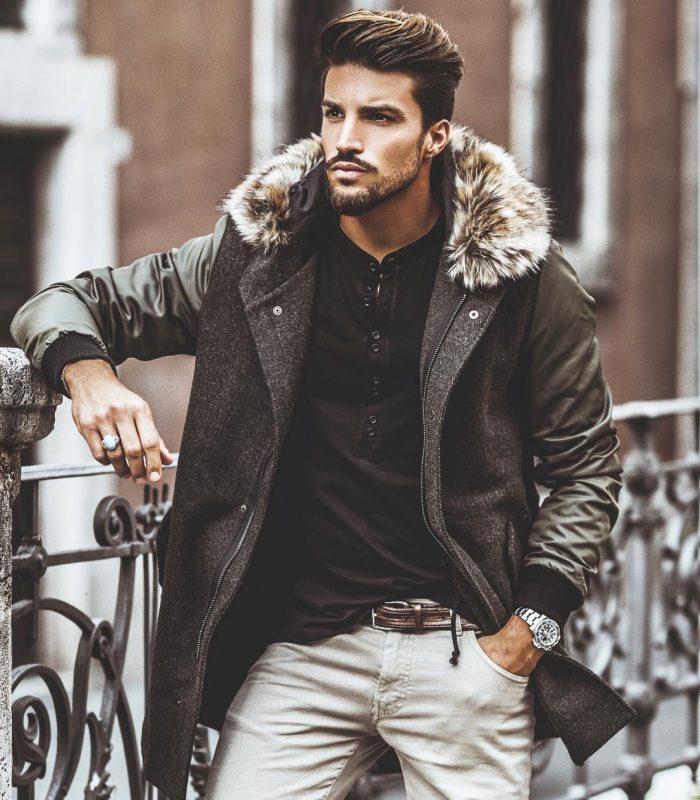 If you like this article, help us to spread the word by sharing this image to your Pinterest or click the Social Media icons on the above to start sharing.