PHOTO CREDIT: @rowanrow
The humble white shirt can pair with anything and everything without having to worry about texture, color, or fabric of the pairing elements. It is undeniable that a white shirt is a timeless wardrobe staple that looks stylish for any season or occasion. Trust me, it's hard for you to go wrong with the white shirt.
White Shirt Outfits for Guys
One of the basic outfits every man should have in his wardrobe definitely is a white shirt. A white shirt is no longer a formal outfit to be worn inside the office or to attend formal events like wedding, funerals, graduation, or any other formal engagements.
The white shirt is the most essential outfit in the summer. Imagine if you sweat pretty much in front of your clients, the sweat stain on colored shirts definitely will affect your image.
White shirts can be worn as part of a formal or casual outfit depending on your style preferences. And yes, you can also make it part of your street outfit. It's all about mixing and matching.
How To Wear A White Shirt Stylishly?
There are a few ways to wear a white shirt. The most classic combination will be teaming a white Oxford shirt with a black or grey tie and black suit trousers. This style gives you a formal look without having to wear a full-on suit. If you are looking for a smart-casual option, pair it with a good quality of blue jeans and a brown leather belt. You can pair it with a black leather jacket or overcoat if the weather is cold and wet.
During summer, you can opt for chinos or khaki pants with a white shirt for a smart summer look. If you need something more casual for summer holidays on the beach or a summer BBQ, match a white short sleeve buttoned-down shirt with a pair of dark navy shorts. Just remember to add a brown braided leather belt and matching brown boat shoes or flip-flops to finish this laid-back look.
Stylish White Shirt Outfit Gallery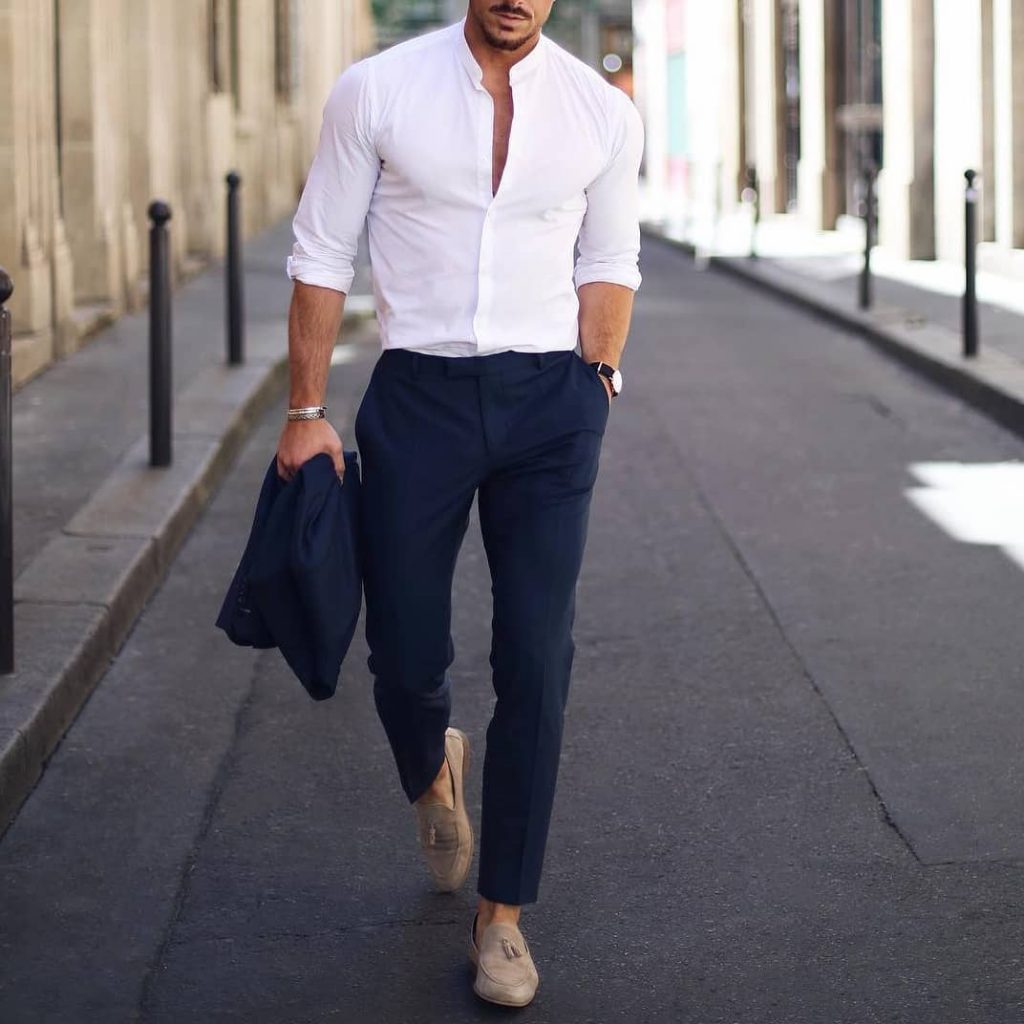 Mandarin collar white button-down shirt, blue suit, and suede loafers.