Bellabeat Smart Jewelry: Brand Review, Founders, Product Offerings
Bellabeat is a wearable technology company that designs and produces smart jewelry targeted mainly at female consumers.
The company's product offerings include smart products such as necklaces, watches, and even a water bottle. Bellabeat is best known for its Leaf series products – the original Leaf, Leaf Urban, and Leaf Chakra. Like other smart jewelry companies, such as invisaWear and Totwoo, Bellabeat aims to bring the looks of jewelry to wearable tech. In addition to pursuing a more feminine design in an industry dominated by sporty and masculine wearable, the brand also takes on a holistic approach in helping its users to stay healthy. In addition to being a fitness tracker, the device analyzes your activities and make holistic recommendations to help you stay fit and manage your stress level.
In this article, we'll take a quick look at the founding of the brand and the range of products Bellabeat offers to the consumers.
This article is part of our smart jewelry brand series.
Founding of Bellabeat
Bellabeat was founded in 2013 by Slovenian artist Urška Sršen and Croatian mathematician Sandro Mur. The founders first met when Urška was working as a windsurfing instructor in Croatia. The duo shared the same passion for sports and travel. They went on to collaborate on various projects. In their collaborations, Urška handled the design and Sandro took care of coding. Later the pair went on to found Babywatch – a maternal monitor technology before pivoting to Bellabeat.
Bellabeat Founders
Urška Sršen was born in Ljubljana, Slovenia, in 1989. She studied Sculpting in the Finnish Academy of Fine Arts in Helsinki. When she was in the academy, she discovered her favorite material to work with – wood. In Steve Job's famous commencement speech, he said that you can only connect the dots backward. This is certainly true in Urška's case, as wood would later become a core theme of Bellabeat Leaf's design. After meeting Sandro Mur as a windsurfing instructor, the two started to collaborate on various projects.
Sandro Mur is a serial entrepreneur. He was a mathematician from Croatia. Prior to co-founding Babywatch and Bellabeat, Sandro founded INU – a healthcare startup that provides real-time patient monitoring technology. When the Babywatch project started to gather steam, INU provided part of initial startup capital for the project to grow.
Read also: Bucardo Brand Review
Babywatch (2012-2013)
In 2012, Sandro and Urška founded Babywatch Inc. Babywatch was a maternity tech that allowed you to listen to an unborn baby's heartbeat and visualize it in the app. The records are a little fuzzy during this period of time. But in 2013, the team made quite a few breakthroughs. First, they won a local competition — the SHIFT conference — in May 2013 which came with a $10, 000 prize from Splitsa Banka. Then in September 2013, they launched their Babywatch product for expecting moms in Europe. A month after the launch in late October 2013, the team won the Pioneers Festival Challenge – an entrepreneurship event in Vienna, Austria. The challenge provided a further 35,000 Euro to the team's capital. The team's momentum continued as they got accepted into Y Combinator – a startup accelerator based in Mountain View, California. The program ran from Jan to March 2014. During this time, Babywatch changed its name to Bellabeat. My speculation is that there could have been some copyright or trademark issues with the name Babywatch in the US. In February 2014, Babywatch launched in the US market as Bellabeat.
Bellabeat
As the Bellabeat portable ultrasound (Doppler) system launched in the US in early 2014, the founders were hatching a plan. The plan was to diversify their products and perhaps pivot their company if an opportunity presents itself. In October 2014, Bellabeat announced several new products: Shell – a wireless upgrade to their portable ultrasound system, a smart scale with no display, and Leaf – a piece of smart jewelry. After rounds of funding and development efforts, the team released the famous Leaf in May 2015 under the Bellabeat brand.
The Leaf was massively popular. The company went with the flow and repositioned itself as a smart jewelry company. In startup-speak, Bellabeat had pivoted to smart jewelry from its original maternal tech focus. Since then Bellabeat has released several new wearable devices such as Leaf Urban and Leaf Chakra and a smartwatch.
You may also be interested in: Smart Pocket Watch: All You Need to Know
Bellabeat Smart Jewelry
Now let's take a look at what smart products Bellabeat has to offer.
Bellabeat Leaf
Leaf is Bellabeat's flagship product line. It consists of a series of smart jewelry. Leaf wearable share an interesting design theme. Namely, a leaf-shape metal that curves and wraps around a smart core that is designed to look like wood or stone. A Bellabeat Leaf can be worn as a necklace, bracelet, or even a brooch.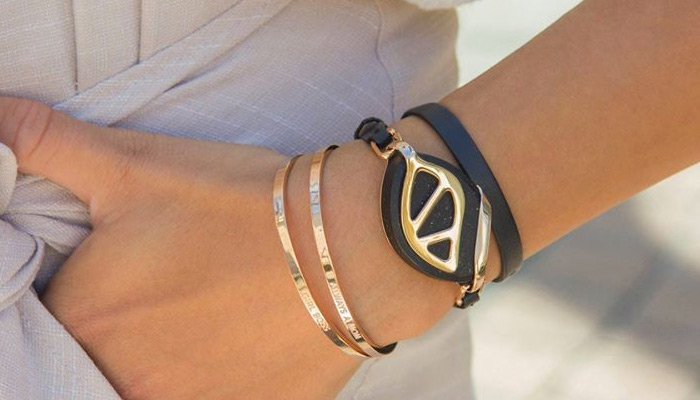 The product line's first device was Leaf Nature (sometimes referred to as just Leaf) which the company released in 2015. Currently, there are three variants in the Leaf line: Leaf Urban, Leaf Chakra, and Leaf Crystal. In terms of tech features, they are identical and you can refer to the list found at the bottom of this section for the feature set. Their differences lie in their designs and the materials. The OG Leaf Nature used actual wood and the metal leaf looks closer to a real leaf. The subsequent Leaf products switched to wood composite. The metal leaf also turned slightly more abstract. In the case of Leaf Chakra, only the silhouette of a leaf remains.
Leaf Urban vs Leaf Chakra. Leaf Urban's core housing is designed to look like wood. Leaf Chakra's housing is designed to look like stone. Leaf Urban has a metal leaf on it. Leaf Chakra got rid of most of the metal leaf and replace it with Rose Quartz and Onyx crystals. However, the silhouette of a leaf can still be observed. The crystals are said to carry some spiritual benefits.
Leaf Crystal is a luxurious offering from Bellabeat. It was created with Swarovski crystals and costs a lot more. Admittedly the design does make it look more exquisite.
Bellabeat Leaf Feature List
Activity tracking
Steps tracking
Record distance traveled
Sleep pattern tracking
Stress management and tips
Guided meditation
Menstrual cycle tracking
Wireless sync
No charging
No display
Smart alarm
Bellabeat Time
Bellabeat Time is a collection of smartwatches. To be exact, these are hybrid smartwatches — the kind that doesn't have any screen on them. Think of it as a Bellabeat Leaf that looks like a wristwatch. The features are almost identical except that it also tells time. Bellabeat Time tracks steps, calories, distance traveled, sleep patterns, and menstrual cycle. Like the Leaf, these watches also take a holistic approach to motivating you to live a healthier, stress-free life.
Minimalist, discreet, elegant – these are some of the words that come to my mind when I look at Bellabeat Time. These watches are made of hypoallergenic stainless steel and are available in rose gold and silver. Its mesh strap is designed to match the color of the bezel. There is no customization option for the strap but you can buy a different strap from Bellabeat accessories store and swap it yourself. The watch dial is white no matter which options you go for. Overall the design is OK but unfortunately a little boring. By the way, check out this article if you're thinking of wearing a watch to a job interview.
Bellabeat Spring
Bellabeat Spring is a smart water bottle that helps you to stay optimally hydrated. It does that by tracking the amount of water you drink. Based on your lifestyle, the companion app will send out a notification whenever you're becoming dehydrated. The water bottle operates on battery and can operator for around 6 months before needing new batteries. It has memory built-in and can store up to 14 days. To sync with your phone, simply shake the bottle. The Spring a is BPA-free water bottle — that means you can drink without worrying about ingesting toxins from the bottle. The exterior offers superior grip and comfort due to its design and material used. Last but not least, the bottle is dishwasher safe.
Product Discussions
Is Bellabeat Leaf Waterproof?
Bellabeat Leaf (the first version) is safe against water splashes but it is not water-resistant. So no, it is waterproof. Do not wear it to swimming or any other activities that will get it submerged in water.
The succeeding Bellabeat Leaf Urban and Leaf Chakra are water-resistant and have a rating of IPX6. That means you can wear it in the shower and it is safe against rain and other wet environments. But you still shouldn't wear it to swimming, the device will get damaged if it gets in the water.
Brand & Company Discussions
Is Bellabeat an American company?
According to Bellabeat's Wikipedia page, the company's headquarter is in San Francisco. It also has offices around the world such as in London, Hong Kong, and Zagreb. The company appears to run most of its operations in Zagreb, Croatia. So with that taken into consideration, it's reasonable to call it a Croatian-American company.
Bellabeat Videos
Meta Data
This article was originally published on Urban Men Outfits — a website dedicated to men's fashion tips, grooming ideas, gadgets, and other fun topics.
Article Structure