Men's Overcoat Buying Tips & Outfit Ideas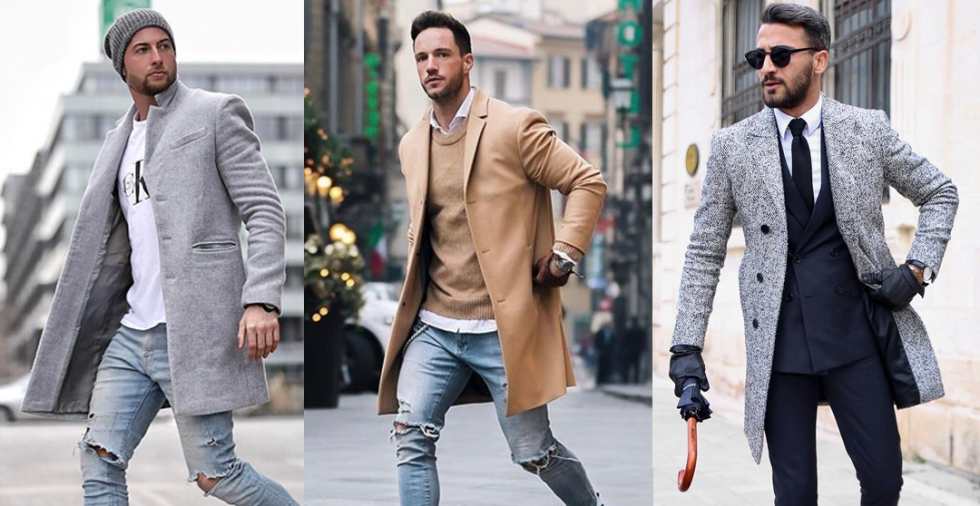 Overcoat for Men
Buying an overcoat could be tricky if you have no idea about the fabric, color, fit, and quality. But don't worry, we've put together this guide that will help you choose the perfect men's overcoat.
RELATED: How to Choose Trench Coat?
Topcoat, Overcoat, and Greatcoat
Before we get started, allow me to explain what is the difference between a topcoat, an overcoat, and a greatcoat.
These 3 items could cause confusion if you don't understand their distinction.
An overcoat is a long coat that is intended to be worn as the outermost garment. The length usually extends below the knee.
A topcoat is a lightweight overcoat. The trench coat falls under this category.
A greatcoat, also known as a watch coat, is a heavy, bulky overcoat that has its root in the military.
How to Choose an Overcoat? A Comprehensive Men's Guide to Picking the Best Overcoat
A good overcoat can complement a suit effortlessly and create an instantly smarter look.
But what exactly is a good overcoat anyway? And how can you pick the best overcoat for yourself? Below are some helpful shopping tips on how to choose men's overcoat.
Men's Overcoat Buying Tips
1. Understand the Length – how long should an overcoat be?
Traditionally, overcoat should fall under the knee, but if you're a shorter man, you should always opt for a knee-length or slightly shorter overcoat. This will help to lengthen the torso and create height. If you're a taller man, opt for an overcoat with knee-length or slightly longer. There is some cropped version of overcoats out there, but keep in mind that short-length overcoat might not be a good option for extreme weather conditions as it only covers half of your body.
2. Choose the Right Fabric – the fabric used determines the lifespan of an overcoat.
Always opt for natural fibers like cashmere or wool, or alpaca as this material is more durable. Overcoat made with 100% wool is the best option because it's heavy, not too expensive, water-resistant, and it keeps you warm.
3. Pick the Right Weight Based on Climate.
After you've chosen the fabric, remember that the weight of the fabric takes an important factor too. Do look for heavy fabrics in an overcoat because they don't show wrinkles easily, and they will keep you warmer. An overcoat with 17 – 20 ounces or 480 – 570 grams works well for New York winter.
4. Remember the Fit – the best-looking overcoat is the one that fits you the most
First of all, you need to understand how you are going to wear the overcoat. Whether you are going to wear it with few layers underneath, or just a single layer underneath. Ideally, you should have enough room on your overcoat if you are going to wear a few layers underneath. If it is just a single layer underneath, make sure the coat fits you in the most flattering way and it is not over baggy, otherwise, it will make you look heavier.
5. Pay Attention to the Overcoat's Sleeve Length
The sleeves should be long enough to cover your shirt's cufflinks but not so long that it makes you look like you're stealing someone's coat. Unlike regular office suit, shirt cuffs should not be shown after wearing an overcoat. Your overcoat should reach all the way down to the beginning of your thumb and cover your entire jacket so that no cold air will be sneaked into your body.
If you're wearing a watch, the sleeves should cover your watch partially or completely. If you can see your watch completely (and hopefully not your forearms), that's a sign that your overcoat is ill-fitting. Personally I suggest complete coverage of your watch as to protect your watch from the elements (snow, blizzard, drizzle, rain, you name it.) If you're shopping for watches, check out these cool watches for men from Nordgreen.
Photo: Nordgreen Native watch has a slim profile that doesn't create bulges under sleeves. The dial face and strap can be customized according to your preference. See it here.
6. Do Invest in a Good Quality Overcoat
As always, we would ask our readers to choose quality over price. The reasons are obvious because a good quality overcoat can last longer and save your money to buy it again every winter.
7. Single-Breasted vs. Double-Breasted – which is the more trendy and fashionable design today?
The single-breasted overcoat is the norm out there but the market now has the double-breasted option that is going to make you stand out from the crowd. On top of that, double-breasted is expected to be warmer because they have two layers of fabric on top of each other versus a single-breasted which only has one layer.
8. Black Overcoat…Seriously?
If most of your office suits are black or dark grey, please avoid putting on a black overcoat because it is getting way too bored when everyone out there also wears the same color as you. Try to consider other colors like tan, beige, camel, or maybe light grey. It will create some color contrast with your dark suit and making your style more stunning.
9. Fashion Taboo: Overcoat & Workout Attire Are Not Friends
It definitely looks quite weird if you wear the overcoat with jogger pants or gym tank top. This combination won't work well. If you want to create some workout look during winter, mix it with a quilted jacket or a hoodie instead.
10. Nail the Look with Extra Accessories
Overcoats are versatile. There aren't that many accessories that won't go well with it. Here are some accessories you can wear with an overcoat. For example, a scarf to alleviate your outfit and provide extra warmth when the winter days get harsh; a dress leather gloves or a fedora hat; and of course, wristwatches go nicely underneath the sleeve of your overcoat. If you're up for a little DIY project, you can make your own smart pocket watch and let it dangle from the buttonhole of your coat.
In addition, small accessories such as personalized enamel pins can elevate your entire look. I've heard a professional enamel pin maker says, "I Don't Wear Pins, I Wear Attitude." Indeed, more and more fashion lovers are choosing these delicate accessories to fully express their personality nowadays.
Although these accessories are not necessary, wearing them will add some points to your overall look.
Overcoat Outfit Ideas for Men – Gallery
We've curated 60 pictures to demonstrate how stylish men dress up the overcoat during this winter. Please click the next button or slide left using your finger if you're on mobile.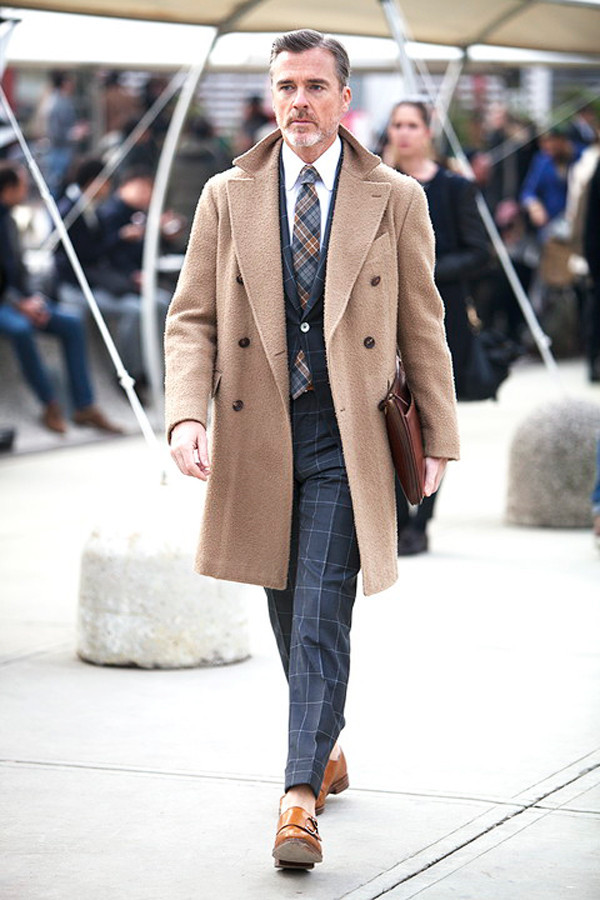 Looking for more dapper office wear ideas? Follow this link – How to wear a business suit?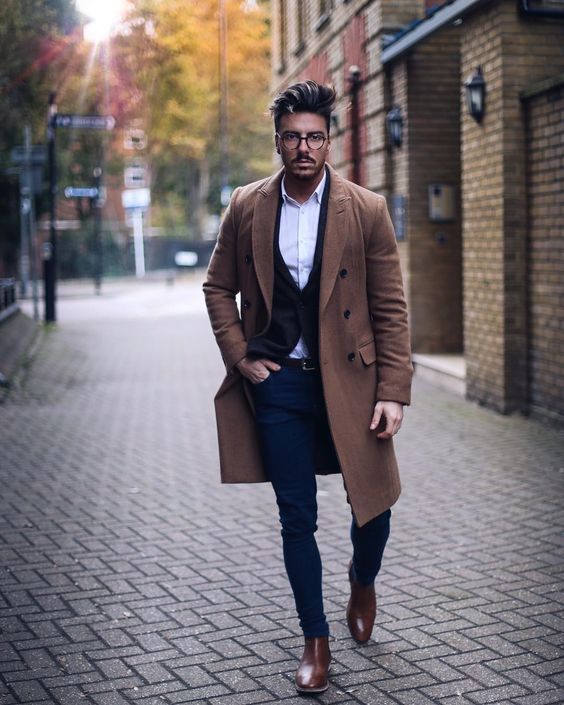 Looking for more white shirt fashion ideas? Follow this link – White shirt outfit ideas for men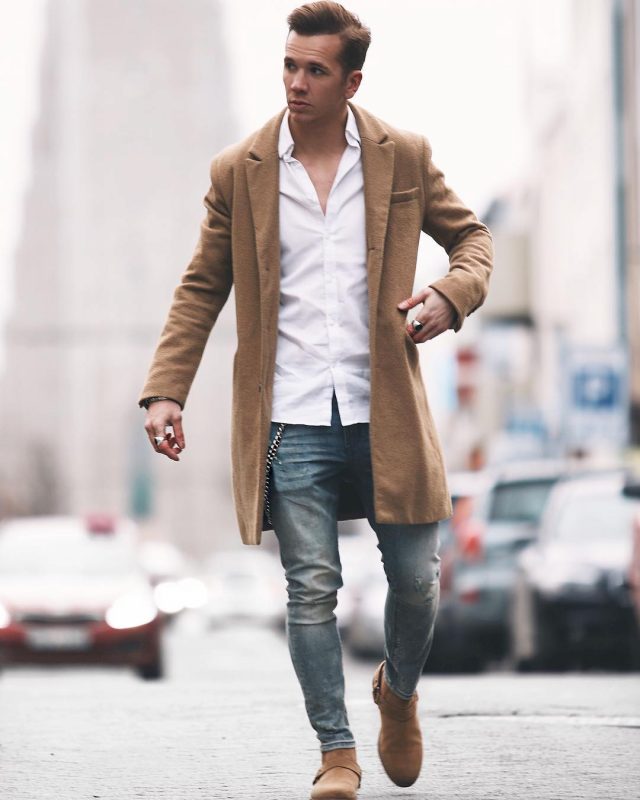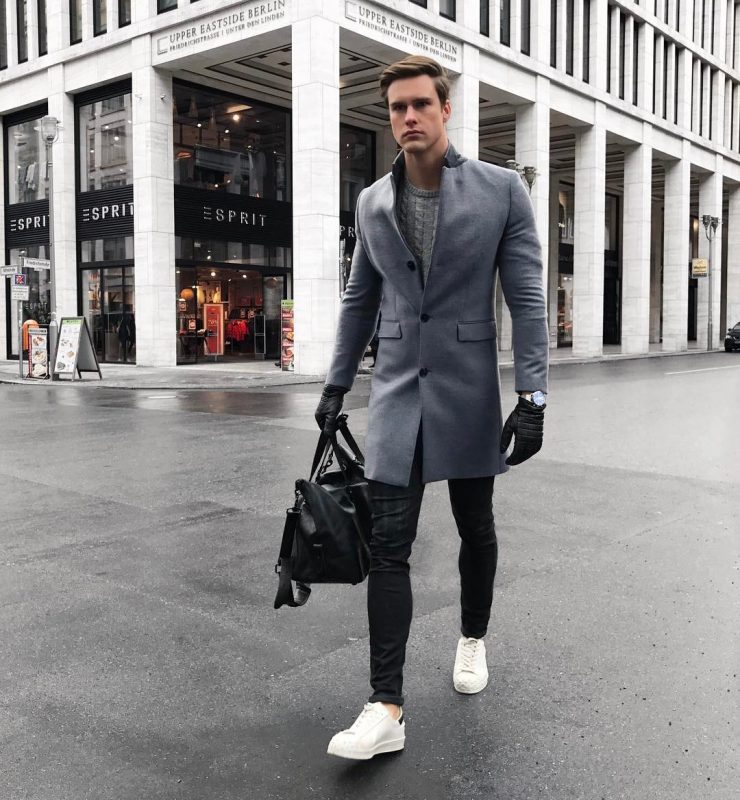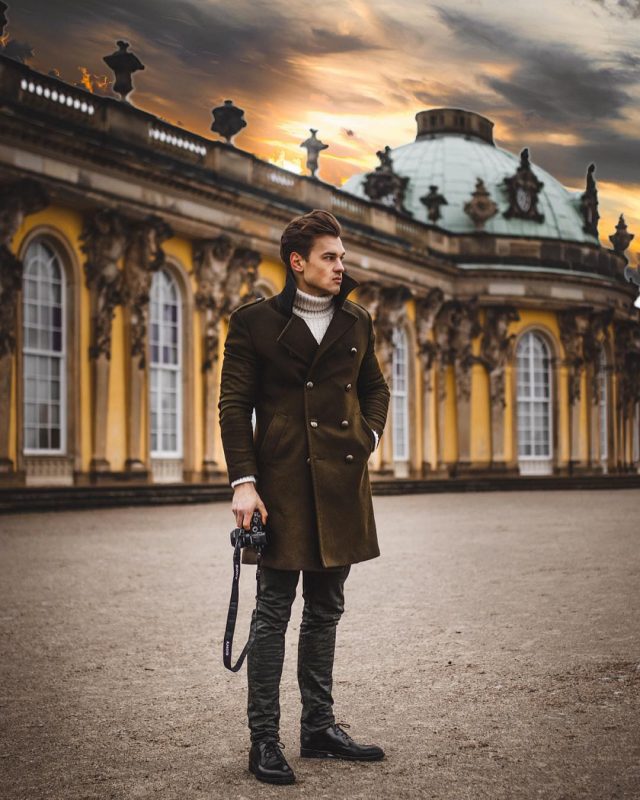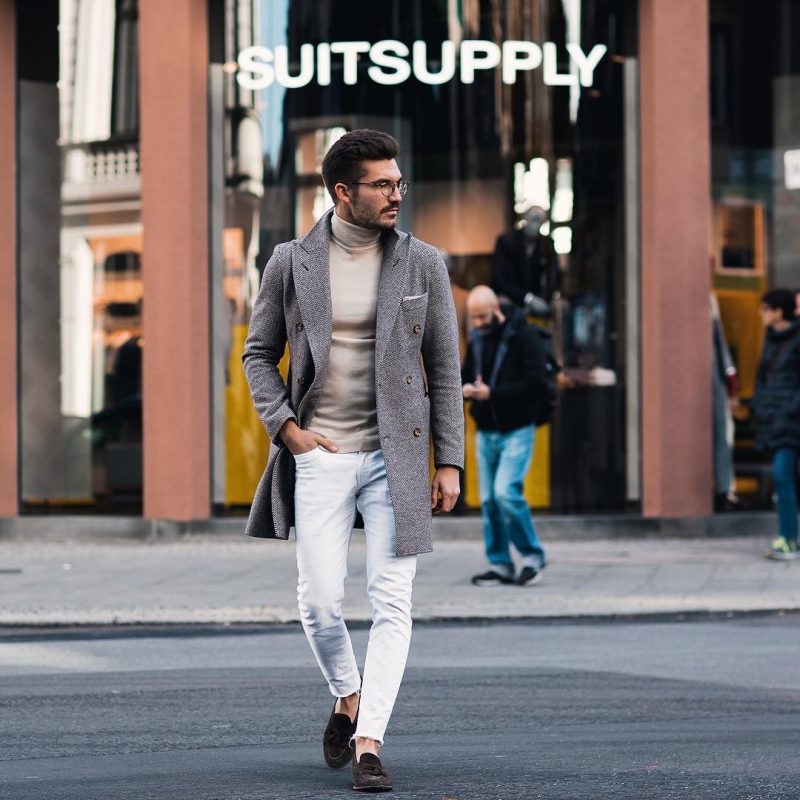 Love fur collar? Check out another men's coat with fur collar attached – Parka jacket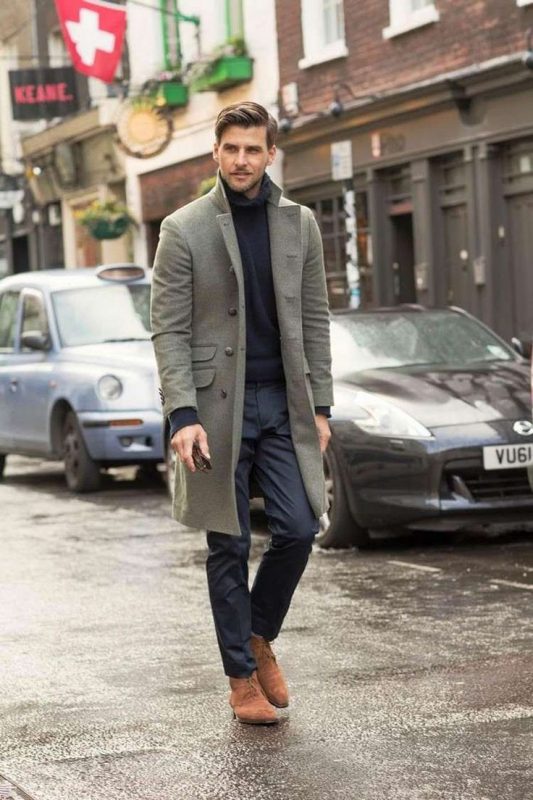 Wanna learn types of beanie hat on the market? Read more here – Beanie hat
Looking to replace a new pair of fall or winter boots? Compare the products here – Boots
If you like this article, help us to spread the word by sharing this image to your Pinterest or click the Social Media icons on the above to start sharing.