PHOTO CREDIT: @google
Thinking of wearing a hat during a bad weather day but don't know which one to pick? No time to style your hair and rush for a meet up on this chilly month? Luckily, there is always a fashionable item that was designed to fulfill the purposes above – the beanie hat.
The beanie hat comes and goes fast, but it has been dominating fashion all the time with different styles and trends. There are five types of beanie hats that men can try, and we'll introduce each of them.
Cuffed Beanies
The classic cuffed beanies are one of the most popular hats you will see on the workmen during winter. This hat usually comes with two materials – wool and cotton, but a woollen style will give you more texture and pattern for styling. Cuffed beanies are knitted with extra long materials at the bottom part to allow a fold in material that creates the cuff on the hat.
Fisherman Beanies
The fisherman beanies are relatively new in the men's fashion trends. This beanie is slightly similar to a cuffed beanie, but the fisherman features a turn-up and sit literally just on the top of your head without covering your ears.
Slouch Beanies
Slouch beanies are the most popular and common beanie hats you've seen in men's fashion. This beanie hat features a longer style that covers your ears and has additional material snuggling down at the back of your head. Slouch beanie is the only beanie that comes without a cuffed brim and it has gained a lot of attention and popularity after people realized David Beckham has regularly worn this style of beanie on the street.
The Bobble Hat
The bobble hat isn't something very popular in the men's fashion, but it may come as a surprise to learn that it actually has its roots in the military. The bobble hat features a pom-pom on top of it and often this unique feature is treated as the least manly thing.
High Top Beanies
If you are looking for a bold and fashion-forward beanie hat, High top beanies will be the best option for you. This beanie hat features an extra room on top of the hat, giving a chance that it won't be able to keep your head warm. Despite high top beanie has become popular over recent years, if you're more into appearance than practicality, this hat may be the one you're looking for.
Looking for more monochrome outfit ideas? Click on the following link to continue – Monochrome Outfit Ideas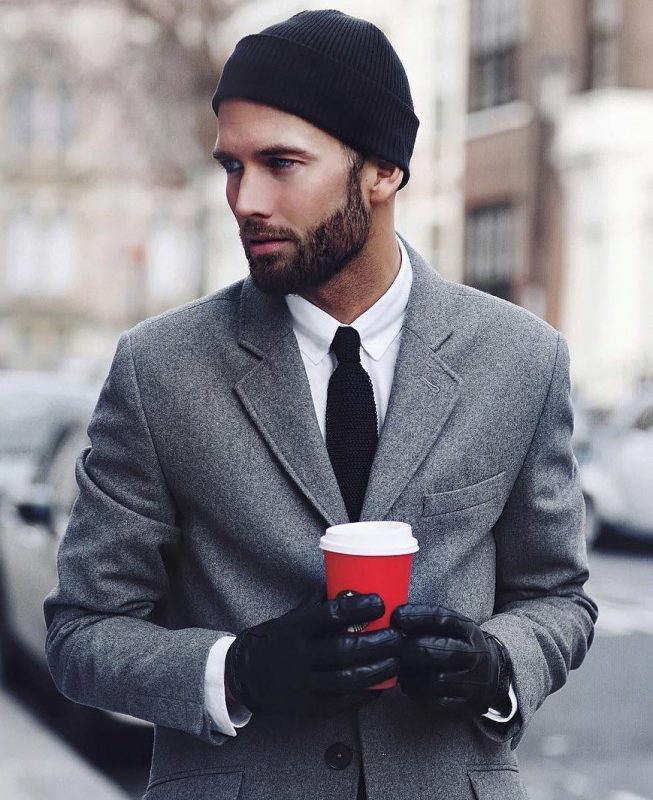 Searching for more formal outfit ideas? Check it out here – Men's Formal Outfit Ideas
For more details about how to wear denim jacket in style, click on the following link to read more – How to Wear A Denim Jacket In Stylet
If you want to know how to style a bomber jacket on this fall or winter, click on the following to read more – How to Style A Bomber Jacket
Looking for a pair of quality fall/winter boots? Check out this article – Men's Quality & Affordable Fall Boots
Searching for more leather jacket outfit ideas? Click on the following link to see more – Fall Leather Jacket Ideas
David Beckham loves to wear beanie hat.
His son, Brooklyn also wear beanie hat.
Justin Timberlake with his favorite beanie hat.
If you like this article, help us to spread the word by sharing this image to your Pinterest or click the Social Media icons on the above to start sharing.